What's Going On?
When you visit Crete are two excursions which are more or less mandatory. One is to go for a wander around Knossos. There's more on that subject later in the holiday. The other one is whether you're "hard" enough to have a go at walking all the way down the Samaria Gorge. It's possible to visit Samaria Gorge the lightweight way (by catching a boat to the bottom and walking up a bit) and that's actually what I did when I first came to the island. When I came in 1998 with Kas we did the full walk. We had fond memories of that day so persuaded the kids to come and have a go at it too. Isn't it strange how your memory filters out the bad bits and just leaves the good bits.
An Early Start
Samaria Gorge is a long way away from anywhere. Well, I guess it's not that far from Chania, but that means it's a long way from anywhere else. Even from Chania it's about 30 miles over ridiculously small and winding roads. But that means it was about 100 miles away from where we were staying.
We'd booked a trip by bus (you can't do the walk with your own car) through the hotel reception. It was a package trip with a local company and the local pickup turned out to be the last one. Heaven knows how early people had to get up for the first pickup. Anyway, we were due to be picked up at 6:30. That meant being up the top of the hotel car park by about 6:20, just in case. It was so early that we got to watch a lovely sunrise while we were standing and waiting.
When we eventually were picked up, it turned out to be just a minibus. I thought that was a bit weird. The minibus scooted down into Agia Pelagia. It apparently had a couple of other pickups to do before heading off. After this, the reasoning for the minibus became clear.
The minibus was in fact just a local "hoover" that was collecting people and then dropping them off up at the main road. We pulled off into a layby on the motorway junction and sat for a couple of minutes until a somewhat larger bus appeared behind us. That was the "real" one. It was close to being full when we got on, so we found ourselves a few seats (not all together) and settled in. It was still only just 7 am and the tour guide said we'd likely arrive at the gorge around 10:30.
The Wheels on the Bus Go Round and Round
The next several hours were spent in a state of boredom, interrupted by occasional tedious phases. The bus didn't seem to be going very fast. I know the roads are rubbish, but the bus still seemed to be going way, way too slowly. Because some people had apparently been on the bus since last night, they had scheduled a stop somewhere to get breakfast and use the toilet. That place was only 25 minutes from where we'd got on. The bus waited there for the best part of half an hour.
From here, the bus continued along the north coast highway until we were nearly in Chania before turning up into the mountains. And then we made a second stop, in the village of Omalos. Omalos is the proverbial "last village before the gorge" – it's only a couple of km further up the road to get to the gorge entrance. I guess we'd been on the bus without stopping for a shade over 2 hours when we got there, but another 30 minute stop felt a little excessive. By the time we got to the top of the gorge it was getting close to 11 am, and then we had to queue to buy tickets to get in. That took another 15 minutes. So all-in-all, it was somewhat after 11 am when we started walking.
The tourist guides say to allow 6-7 hours to walk down. If you're quick, you could maybe do it in 4-5 hours. Our tour guide told us two things which turned out not to be entirely true. Firstly, he'd be walking behind us as a "sweeper" and secondly, he'd be handing out tickets for the ferry home at 5 pm in a bar at the bottom – don't be late…. More of that later.
Walking Stage 1 – Down to the Agios Nikolaos Checkpoint
Before the rest of this post turns into a moan-fest, it is worth noting that the Samaria Gorge is one of the most spectacularly beautiful places on the planet. Let's get that out of the way. You can read about it, and the National Park around it, at https://www.samaria.gr/
We began walking down without any real sense of urgency because (in mine and Kas's minds) we'd still got absolutely ages. A whole 6 hours, when surely the tourist guideline of 6-7 hours was meant for "slow" people.
What became apparent is that our group fell into the "slow" category. For any number of reasons. None of us apart from Kas is as fit as we ought to be, and indeed the kids hadn't really even bothered trying to prep. At least I do long walks whilst caching on a fairly regular basis. So whilst I can't run very fast, I can keep walking for a very long time at a reasonable rate. The kids can't. Secondly, the walking was what you'd describe as challenging. There's no more than 1km out of the total 14km in the gorge itself that can be walked without looking downwards at every single footstep.
Going Downhill
Even though its downhill, it's very steeply downhill at the top. Steep enough for steps, but irregular ones amongst tree roots and loose rocks. In the valley floor some of the downhill is uphill, and it's equally uneven. The challenging walking conditions were the main thing that Kas and I had forgotten.
So when we got to the first checkpoint, which seemed to take an eternity, we saw the tour guide and he gave us a pretty stern "you're late" kind of comment. I know we were late. We were going as fast as we could though.
Venus was suffering the most. She suffers from floppy-ligament-itis. I think it has a proper medical name, but basically her ankle joints and the soles of her feet aren't very resilient to long walks, even when she has supportive boots on. She gets pains akin to being stabbed in the bottom of the foot. I know when I walk too far I get something similar and have to rest, but usually for me it doesn't start until I've walked 12-15km. Anyway, on this day I'd tried my walking boots on first thing and they didn't feel right, so I swapped them out and wore some walking shoes instead, so my experience was not what it might have been.
And then Ami. Ami gets blisters on her feet, even with boots that fit properly. So we were a bit of a sorry bunch even at the first checkpoint, which was only 25% of the way in. It was starting to look like it would be a difficult day.
Walking Stage 2 – To Samaria Village
After sitting around at Agios Nikolaos for 10-15 minutes and consuming some of the food we'd bought we had to head off again. At least there's drinkable water at multiple points, so you don't have to carry buckets of water with you, but you do have to carry food.
On this second stage was the point where the fun disappeared and it became, I'm afraid, a constant race against time. We could really have used an extra hour or two to do the walking, and maybe that was the problem with the tour company we used. We'd been at the top at least an hour after we were expecting, but because the final boat of the day leaves at a fixed time, you either catch the boat or you stay overnight and then try to figure out how to get home on your own the following day. So we basically had 6 hours. We'd used more or less two of them getting to the first checkpoint.
Samaria Village
At the second point we met up with the tour guide again. There were plenty of others from our bus still there when we arrived, and he told us we'd caught up to the schedule, but we could only really afford to stay there for 10-15 minutes again. That's certainly not what Venus wanted to hear. The guide also told us that it's possible to get a minibus the final couple of km from the gorge exit down to Agia Roumeli. That was beginning to look like the preferred option.
The fact that the guide was already there when we arrived, but hadn't passed us on the path, revealed that somewhere there is a quicker walking route. There are no roads, so either he went a different way, or he has a twin.
Anyway, back at the plot, V had a few things to eat. Ami also grabbed a couple of snacky things. I was munching my way through the European Sandwich Mountain that was in my backpack. Nobody else seemed to want any of them. Anyway, 15 minutes rest and off we go again.
Walking Stage 3 – Down to the end of the Gorge
Minibus or no minibus, we still needed to walk down to the southern exit of the gorge.
We gained a false sense of security from the fact that the stretch to the south of Samaria Village is the easiest part to walk on. In the hour after lunch we covered the best part of 4km, and thought we were getting back to the "comfortable" stage with the time. This was despite the fact that both kids were in obvious pain. Both soldiered on. I guess the fear of missing the boat was stronger. I felt much the same. To be honest, it wasn't the best day of the holiday because of the constant need to keep walking. I found I was progressing more quickly than the kids to try to set a pace that would get us home, while Kas was bringing up the rear and keeping the girls going.
Anyway, the brief flirtation with comfort soon disappeared when we hit the bottom stretch. That's the part where the path goes through "The Gates" – a narrow section no more than 4m wide at the base but nearly 300m high. It's spectacular, if you have time to look. However, that narrowness also heralded the return of the uneven, undulating pathway that was, at times, quite difficult to follow. At least most of this section was in the shade. Heaven knows how we'd have felt if it was in direct sunlight too, but by this stage it was mid-afternoon and the sun was behind the cliffs to our right.
The Final Stage
We finally, finally reached the exit gate at the southern end at about 4:40. There was a rest area there but we frankly didn't have time to stop. From the exit gate it was another 500m or so to the place where the minibus goes from. We weren't sure how often the minibus goes, nor how much more walking there would be, to be honest, so while we were inbetween those two points I suggested to Kas that maybe I should hot foot it down the road to Agia Roumeli to make sure I was at the relevant bar to collect the ferry tickets. The ferry wasn't until 5:30, so most of an hour was available, but the guy definitely said to be at the bar to collect tickets before 5pm. There was no way the girls were going to walk there that quickly.
So off I went. I had about 15-20 minutes to walk the final mile or so, find the bar, and get the tickets. The girls waited for the minibus.
I made it down to the village pretty quickly (I have to admit I jogged some of it though). The route down was a concrete road (the only road in the village). I could move quickly across it and it was welcome relief after a day of uneven plodding. But of course, I hadn't taken the map of the village so I didn't know the whereabouts of the relevant bar. Damn. I also think I took a slow walking route which lead me further than I needed to go. I reached the village at fractionally before 5 pm. Rather luckily, I found someone else off our bus who pointed me at the right place. And at the queue.
Do what, Ioannis?
When the boy said he would leave the bar at 5 pm, what he actually meant was he would start giving the tickets out at 5 pm. Loads of other people off the bus were in a queue, and I joined the back of it.
I was sweating profusely after running or power-walking much of the way and I was out of water too. That momentwas the worst I've felt in many years. I definitely made a mental note that I'm never going to attempt that walk again. Ever.
I also resolved internally that we should listen to the girls a bit better. V said she'd struggle, but we persuaded her to do it anyway. It was too much for them. The stress of that all day meant that neither Kas nor me really enjoyed it either. If you're young and fit, and have some experience of walking over rough ground, it would all be fine. When you're unfit and haven't practiced it's too much.
Anyway, all of this thinking was done whilst standing in the queue. When I got to the front I got a bit of a "oh, you made it then" comment from the guide before accepting my tickets and being told I needn't have rushed down. I could, in fact, have waited for the minibus. The last one is at 5pm. The girls caught that one. It cost €3 each but that's a lot cheaper than spending the night in the village. I suspect that's what we'd have been doing if they hadn't made the minibus.
Anyway, tickets in hand I went down to the ferry dock and waited for the girls to appear. They sauntered up at about 5:15, having had time to stop and buy some chilled drinks in the village.
Ferry Time
Now reunited, we went straight onto the ferry and looked for some seats. I suggested we make the tactical move of sitting on the sunny side. Why? Because the boat was going the other way from how it was pointing at the dock. So the sunny side would become the shady (and land-facing) side as soon as we pulled off. So we found some bench seats and crashed. Venus sat on the edge, in the sunshine, looking like she could easily kill someone who said the wrong thing. Kas sat opposite her and I sat next to her. Ami sat in the shade next to me and removed her walking boots with some degree of pain.
The ferry back took 40 minutes or so (I think) and involved a stop at an intermediate village before dropping us off at the end of the nearest road – the village of Hora Sfakion. This is the place where all the tour busses sit and wait for people who've done the "long walk" so it has a massive bus park. It also has a new pier since the last time I visited. Anyway, I'd previously checked with the guide and his answer was essentially that we're leaving as soon as everyone is on the bus. I took that to mean he'd take a dim view of me climbing a nearby small hill to go find a geocache.
When we made it to our bus the nearby hill was actually even more nearby than I'd imagined. However there was a big crowd around or getting on the bus, so I thought it would be either impolite or dangerous to wander off. At least we managed to get pairs of seats this time. Kas sat with me and the girls sat together somewhere behind us.
Driving Home (but not for Christmas)
The drive up out of Hora Sfakion is pretty dramatic. Many moons ago I'd descended into here on a bus and I'd wondered why the flat plain below us still had loads of hairpin bends in the road. That's because it's not flat. It's just flatter than it is higher up. Anyway, you get the picture. Bends. Lots of bends. See the embedded photo here from https://www.picturesfromgreece.com/ – that's a photo of the steep bit.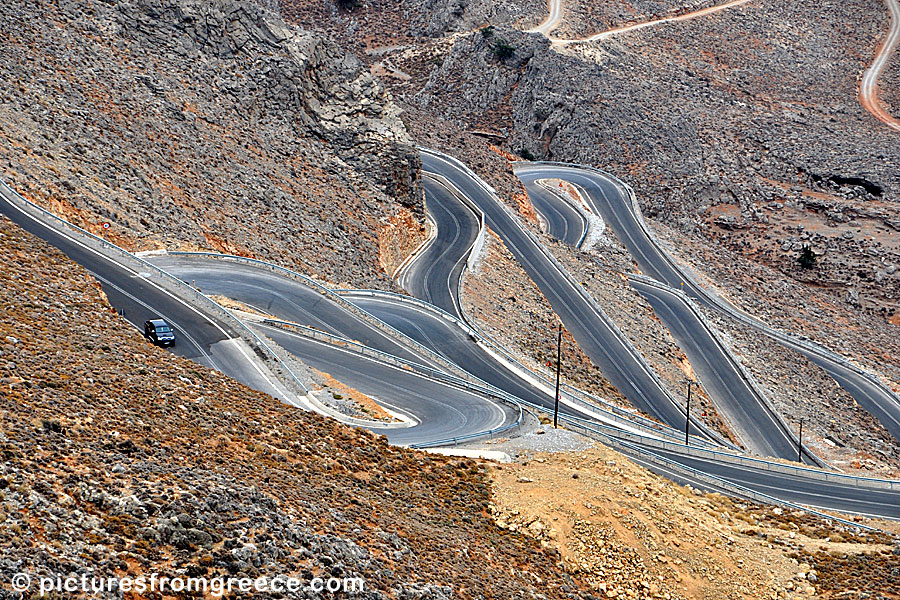 One advantage of the drive home compared to the drive up, though, is that it rejoins the north coast highway about 30-35km closer to home, which meant 35-40 minutes less on the bus.
We did still stop on the way home because some of the people on the bus had still got a long ride in front of them. While we were stopped it occurred to me that it was possible we might just get home in time for dinner at the hotel. I checked with the tour guide. 35-40 minutes more to Agia Pelagia, he thought. And it was not long after 8 pm.
What I'd forgotten, of course, was that we would be abandoned at the roadside and then driven around Agia Pelagia in that minibus again. That took 10-15 minutes and we were last on the drop-off schedule. Eventually we got back to the hotel at 9:30 and we walked straight to the restaurant, assuming we'd got half an hour left for dinner. We hadn't. Dinner closed at 9:30, not 10. Damn.
Reflections
So having failed with dinner, we also concluded we couldn't be bothered with queuing for a cocktail either. So we just gave up and went back to our rooms. We invited the girls round for some crisps we'd got in the room, but they weren't interested. Ami was suffering with blisters and a bruised knee from where she'd placed a foot wrong and fallen over.
So Kas and I had a relatively humourless beer from the fridge and some crisps whilst unpacking and complaining a lot. And that was that for the day. We got up at 6 am and went back to bed just after 10 pm. We were all exhausted. Had the kids not been with us, or had we all been rather more fit and able to walk long distances, I'd have enjoyed it much more. The reality though was that the day had mainly been a stressful slog, albeit in the beautiful surroundings of the Samaria Gorge.
Remind me never to try that again.
---