Crete
July 21st to August 4th 2022
A family holiday to the tourist-central island of Crete.
Despite the tourists, it's really very lovely.
We decided to try an all-inclusive hotel for the first time.
We also decided not to rent a car for the whole period, but we did still manage to get around quite a lot.
Heraklion Airport
Panorama Village Hotel
Agia Pelagia Beach
Psychro Cave
Rethymnon
Spinalonga
Samaria Gorge
Achlada
Knossos
Georgioupolis
Caching in the Mountains
Acqua Plus
Rodia
Acqua Plus
A Bit of Mythology
The beginning of our family holiday to Crete, in search of the mythical Icarus. Well, not really, but it's a convenient title for the first post of the holiday, when I couldn't think of a better one.
There are significant differences between our story and that of Icarus, as subsequent posts will show. The main ones are:
Icarus was trying to escape from Crete, whereas we were trying to get there
Icarus had wings made of feathers and wax. As far as I know, the wings we used were mainly aluminium and kerosene
We survived the trip out
So apart from it being totally different, it's quite similar. Probably. Anyway, Icarus was Greek, and Crete is involved in the story somewhere. So that'll do for me.
The lesson to learn here is that if you're interested in actual Greek mythology, then this probably isn't going to be the most informative location for you.
Setting Off
We'd decided a while back when we booked the holiday that we don't especially like UK regional airports. Some are OK. I guess Birmingham is OK. But Stansted is a pain in the posterior to reach from our house and going through Luton is one of the most soul-destroying activities known to mankind. So we upgraded our flights to be with BA on a scheduled flight from Heathrow Terminal 5. It wasn't much more expensive, and promised to be altogether more pleasant.
And then, of course, it became obvious we were still in a pandemic and Heathrow is short-staffed. So flights are being canceled and they don't always manage to load the bags. So it promised to be a bit of a wild-west experience. But nevermind. We're booked, so that's the end of it.
The flight we were booked on is a daily one which leaves Heathrow at 8am UK time, flys to Heraklion, refuels and then flies home again. We hoped the 8am take-off and the fact that it's the only Heraklion flight of the day meant there was a high chance of it not being busy, and not being cancelled.
We left home at about 3:45am. It's an hour to Heathrow from our house and we were supposed to check in 3 hours before our schedule take-off.
The drive went well and we were at the Heathrow Meet-and-Greet parking before you could say Jack Robinson. Well, not quite that quick, but there weren't any hold-ups. We were there so early that the Heathrow T5 Meet-and-Greet wasn't open. We know from past experience that they don't arrive until 5am, but that was perfect. After a few minutes of lingering the guys turned up and we were away.
Flying
Despite being asked to arrive three hours before our flight, we couldn't actually drop our luggage off until two hours before. "Why?" one wonders. Mysteries of the universe. Anyway, we couldn't drop the bags off until 6am, so we took them with us into Cafe Nero to grab some breakfast. Kas had taken the tactically brilliant move of buying those little sensor things you can put in your bag so you can track them on the phone.
Once we did drop the bags off, the walk through security at Heathrow was not unpleasant. Both kids got stopped and frisked. Neither adult did.
And then we had about 90 minutes to waste inside the departure lounge. It was quite busy in there. We had a bit of shopping to do – we needed sweets to treat popping-ears on the plane, and Venus had forgotten to put her lens cleaner in the suitcase, so it got snatched, so we had to buy more.
The plane was a nice new-ish Airbus thing with over 200 seats, most of which were full. The tags told us that all four bags were on the plane as well as us being there.
The first part of the flight was grey and cloudy, so not much to see out of the window apart from the "top" bits of the Alps poking their heads through the clouds. Once we got over to northern Italy there was a very clear view of Venice out of the right side, and then we flew all the way down the Dalmatian Coast and over Athens before crossing the Greek Islands to reach Crete.
In the baggage hall we could confirm on Kas's phone that all four bags were, indeed, somewhere in Heraklion Airport. They all popped up on the conveyor eventually.
Driven in Style
I booked a transfer from the airport to our hotel in a private minibus. Partly because I didn't want to sit on a big bus, and partly because we'd decided not to rent a car for the whole holiday.
The hotel does an all-inclusive package. It seemed wasteful to then book a car for the full period because I'd feel guilty about not using it. And anyway, I didn't fancy renting a car large enough to take the four of us plus our luggage. That's partly because the roads in Crete aren't wide, and partly because the cost of renting a big car was ridiculous.
So we got a private minibus. That meant there was a bloke waiting in the airport for us carrying a sign with my name on it. I've never done that before.
He got us to our hotel in about half an hour, which was great. He knew the way, which is good because we didn't.
Checking In
The process of checking in was unnecessarily painful, in my opinion. We had to fill an online form for everyone. It didn't seem to work. After 20 minutes of farting around he gave us some paper forms and we filled them in by hand. Job done. We're staying at the Panorama Village in Agia Pelagia by the way.
And then, of course, because we booked all-inclusive, we are obliged to wear little plastic tags around our wrists for the duration. They don't come off. Not in a way whereby they can be put back on, anyway. Unless you're Venus. She can get hers over her wrist and hand.
Enough
And that was more or less enough for one day apart from discovering a couple more things about the hotel.
The all-inclusive drinks come in small paper cups during the day but glasses during meal service and in the "proper" bar
The air conditioning in the rooms switches off if the balcony doors are open
There's a supermarket down the road (within 100m) that does drinks and multiple foodstuffs at very reasonable prices, for those periods when we're going to be out of the room
---
Early Morning Walk
We spent the day in our holiday resort of Agia Pelagia, and indeed, mainly at our hotel. Well, it was our first day, and everyone was a bit pooped after spending most of the previous day traveling.
I'd sort of set myself the target of going for a walk each morning on this holiday on days when we're not going somewhere else. This was the first of these. The plan was to walk to nearby geocaches first thing in the morning. That way, it wouldn't be so hot (I hoped) and the ladies wouldn't miss me.
There's a beach about 500m from the hotel as the crow flies. However, I'm well known for not being a crow, so I had to take the road. The walk down is a shade over a kilometre, but of course it's all downhill. This is true of most of Crete. The journey to the actual sea from anywhere more than 100m away invariably involves going down a steep hill. There are some slightly flatter bits, but not many. Crete is mainly composed of mountains surrounded by sea. Wherever there's a relatively flat bit, there's a large town.
Agia Pelagia isn't on a relatively flat bit, and therefore isn't a large town. It's more of a spread-out village. I suspect most of the buildings here have low occupancy during the winter. Maybe we should try coming back then. It might be cooler and easier to get around.
Going Downhill Rapidly
Back at the plot, I walked down first to a little church that should have been the start point for a geocache. I couldn't find it and was a bit spooked by loads of workmen nearby, so I left it. From here it took about 10 minutes down to the beach, and there I found my first ever geocache in Greece. 5 minutes later I found my second one, at the location of the first photo on this post. By this time it was beginning to look a lot like breakfast, so I started my way back up.
The walk up took somewhat longer, even without me stopping at the church to have a second pop at the multi-geocache. On the way up, I did a Bono 'cos I still couldn't find what I was looking for. I did find the container, but sadly it didn't contain all the required information.
Before Lunch
By the time I got back up to the top of the hill it was well into breakfast time, so I met up with the girls and we went off to see what the restaurant could offer. As with dinner, it was a substantial buffet affair with multiple options. Plenty of choice for even the pickiest of eaters, of which we have at least two.
After breakfast the kids fancied a dip in the pool. I didn't. So off they went and I laid on the bed for a snooze. I guess that's an advantage of being in a resort hotel with slightly older kids. Everyone is at liberty to do what they want, even if what they want is to snooze.
By midday the girls had obviously had enough of the pool and wanted to relocate to the restaurant again. That was fine with me.
More of the Same
After lunch I needed some more snoozing. I'd been suffering from an industrial strength headache since we arrived. The kids went for the snoozing option too until about 4pm.
We discovered also that my phone company's "unlimited" data allowance doesn't cover when you're abroad. If you want that, then you have to pay them a fiver a day once you've used 12Gb. That's not a problem for me, but it means that the ladies of the house will be purchasing lots of upgrades to allow them to keep streaming videos.
At about 4pm we decided then it was time to walk down to the supermarket for some ice creams and more water for the rooms. On the way, we went down to the little church to put the proper set of information into the multi-cache I'd attempted earlier. The CO had given me permission to replace it (and had told me what information to add).
Dinner
We had dinner sitting outside on the terrace, staring out at the sea. We decided to make a bit of a plan for the rest of the holiday, so we knew what we were intending to do (or not do) on each day. Venus prefers it that way. I do too in some ways, if only because it allowed me to think about what days we'd need a car and what days we wouldn't. To be honest though, we were all still too tired to organise any of it, and there was a hint of grumpiness in the air.
---
Early Morning Walk
This was another full day that we spent in and around our resort. We didn't have a car, so no real possibility of going anywhere else. It was a day where I ended up walking to the beach and back twice in one day. Different beaches though.
I persuaded Ami to come for a walk with me this morning. We walked downhill to a nearby promontory that had a geocache right on the end of it. I nearly chose this location to host my caching event but eventually decided against it. That proved to be a wise move, because in the event there's nowhere to park nearby and not really much space to stand. And I wouldn't like to be caught down there in fading light.
Anyway, the walk down included a very, very steep bit of road. The locals seem to go in for very steep roads, and just surface them with barely finished concrete. I guess this enhances grip and maybe lasts a bit longer than tarmac when it's extremely hot. But anyway, I wouldn't have fancied trying to take my car down there.
When we came back, some enthusiastic runners were using the same part to do some hill training.
When we got back to the hotel, we treated ourselves to another lavish breakfast.
Bookings
Next on the agenda was to make some bookings for other parts of the holiday. I booked a car for the following three days (Sunday to Tuesday) and then a bus trip to Samaria Gorge for Thursday. There's no point in having a car for Samaria Gorge – it's a one-way trip, basically.
For some reason I still had a horrible headache. It was refusing to go away and I began to wonder whether I was suffering from caffeine withdrawal, as I'd not been drinking a lot of coffee so far on the holiday. I'd ruled out alcohol, as I'd not been drinking much. It might have been heat exhaustion, but I'd not been out much. And it could have been the hotel's apple juice, of which I'd drunk quite a lot since we arrived. But I think it was most likely caffeine withdrawal.
Anyway, after a bit of lazing around, it became lunchtime, and another lavish meal was consumed. By "lavish", I mean "mainly chips" in the case of our two kids. But they don't seem out of step with other kids in the hotel, so what the hell?
Afternoon
After lazing around for a while to let the lunch settle, Kas and me went for a walk down to Agia Pelagia Beach in the late afternoon. I failed to find a geocache there – it should have been obvious but I couldn't find it. It was supposedly around the far side from our hotel and was a bit too far for the previous morning walk. Whilst walking back from there we retired into a beach bar for cold coffees and milkshakes. The girls decided not to come with us because, whatever. I'd left them some Euros to buy ice cream, but apparently that was too much effort too, so they'd both just stayed in their room.
We had a slightly later dinner than the previous two nights, after which the kids gave up and went back to their room again. That left me and Kas to discover the upstairs cocktail bar.
I was hoping very much that a new day would see the end of my headache.
---
In the Morning
The plan for today was to drive to the Psychro Cave, which according to legend is the birthplace of Zeus. However, as is often the case with mythology, more than one place is reputed to be the birthplace of Zeus. So let's not get too hung up on that part of the story.
We had a substantial breakfast, as is becoming the habit, and on the way out I went to collect the keys for the car. It was a little white Fiat Panda.
By the time we were ready to leave it was more or less 10 am. The initial challenge with the car was getting used to the controls. Obviously it had the steering wheel on the left side, but also it had a manual gearbox, which I'm not really used to now. And in comparison to my own car, it was a bit underpowered. That meant it took me a few goes to figure out how much welly to give it to reverse up the steep incline of the hotel car park. After that initial issue, I tried always to park at the top, where it was flat.
Anyway, we hit the main road heading east and after 10 minutes stopped to fill the car up with fuel and to buy some water to carry with us. We continued on past Heraklion and Malia before heading uphill.
Lasithi Plateau
The Psychro Cave is on the edge of the Lasithi Plateau – a high endorheic plateau in the middle of the island. Endorheic means that there are no natural outlets for water. The plateau is about 890m above sea level, and we climbed all of them in the car, naturally. In fact, you have to climb over a mountain pass and then descend into the bowl that holds the plateau. It's quite strange to see. After a couple of days on Crete we were used to everything looking a bit parched, but here it's an oasis of rich vegetation. They have snow up here (sometimes until May) and all that water stays here because it doesn't have anywhere else to go. That means in summer it's warm, sunny and the soil is wet. Perfect growing conditions for numerous crops.
Anyway, enough geography. Psychro Cave is around the south side of the plateau (we entered at the north side), so we had a bit of a drive around. Then in the correct village we headed up a steep bit of hill to park in a fairly tightly packed car park filled with marshals, tat shops, and other cars.
I was aware that the cave itself was uphill from here.
Psychro Cave
Psychro Cave is significantly uphill from the car park. It was maybe 600m across the level, but a good 150-200m of climbing were involved. The walk up was a struggle to be honest, because it was our first major venture out in the daytime sun, plus Venus wasn't feeling great. It took us a while.
Thankfully, when we reached the top and paid the entry fee, we were treated to a deep limestone cave that was dark, damp and cold. That was quite a relief after the strain of walking up the hill.
The cave contains several chambers and is accessed by a steeply descending (and then ascending) set of concrete stairs. It's filled with some reasonably familiar limestone cave formations – stalactites and stalagmites ("c" for ceiling, "m" for mud). We'd seen something similar a few years previously in the Grottes de Medous in the Pyrenees. As with the Grottes de Medous, you're not supposed to use flash photography inside. However, there was nobody here to check whether you did or didn't.
The walk back down from the cave was a bit quicker and we took the opportunity to sit at a cafe to have ice creams before jumping back into the car.
Driving Home
On the drive back, I'd planned that we stop to grab a few geocaches as we drove back around the plateau edge. That seemed reasonable as we weren't in a hurry.
The first we stopped for was in a restaurant. Whilst technically it wasn't necessary to buy anything, we took the opportunity to grab some lunch. It was a beautiful setting.
We grabbed four more caches in the valley floor before beginning the climb back out. I ignored one cache at the base of the climb because it was going to involve doing some hill climbing. So we continued up the hill to a pull off at the top of the mountain pass. This was at the windmills of Seli Ambelou – several ruined windmills on the very top of the mountain ridge, presumably where the wind is strongest. The windmill buildings were stacked up along both sides of the ridge. We decided here would be a good place to take a few landscape photos, so Kas and Ami wandered off to do that while I went for the only cache in the village.
That was enough caching for the day though. Venus still wasn't feeling great, so we decided to jack it in and go home.
On the route back we took a different road, which brought us out past the "Acqua Plus" waterpark that the hotel advertised day-trips to. This bought us out on the main road somewhat to the west of where we'd been in the morning, and as a result the drive along that road was rather shorter.
Dinner
We got back to the hotel at about 4:30, which left us quite a while before dinner.
While the girls were getting ready, Kas and me retired to the terrace bar for a cocktail or two. I tried ouzo with lemonade and lime juice. It was kind of like mouthwash that gets you drunk. Not entirely unpleasant.
Dinner was fairly quick as the girls were pooped, so Kas and me both retired quite early too. The plan for the following day was an afternoon drive over to Rethymnon.
---
First Thing
The plan for the day was to make a trip to Rethymnon for a wander around the old town. We planned for the afternoon only. That meant a lazy start to the day which I decided to fill with a bit of geocaching.
We went for breakfast a bit earlier (at 8:30) and because of that we weren't joined by Ami. As I'd got a car and the ladies weren't desperately keen on spending all day out, I decided I'd head up into the mountains behind Agia Pelagia to do a set of lab caches in the village of Rodia. It looked quite close by, but thankfully I quickly realised that the roads in Crete meant that "close by" was actually a long way, and mainly uphill. So I took the car.
Disaster
Rodia was a (seemingly) traditional village of buildings of mixed ages. The streets were narrow and generally there wasn't a lot of space anywhere. This caused me a problem. I still wasn't really very experienced at driving the Fiat Panda at this point. Combining that with narrow streets and parked vehicles made for impending doom. The doom in question manifested itself in the form of a Toyota pickup truck. It was parked (badly) on one side of the road and there was a solid concrete wall on the other. The concrete wall was protected by a bunch of plant pots stuck in the road.
Anyway, you get where this is going. In my efforts to avoid the plant pots I managed to trash the passenger-side wing mirror on the back of that Toyota pickup truck. This drew an amount of arm-waving from the builder it belonged to. I had nowhere to stop really, so I drove on until I found somewhere to park. I then walked back down the road to sort it out.
Sorting it out was very quick. He seemed pleased I'd come back but basically waved me away as if nothing had happened. One look at the back end of the pickup indicated that nothing had indeed happened to the pickup. Nothing you'd notice anyway. The back end already looked like it had been banged, scraped and rammed into several brick walls. So something happened to me, but not to him. Bum! I guess that's going to cost a few quid then.
Back at the Plot
Back at the main target of the morning – the geocaching. The ad labs were pretty easy to do despite it being punishingly hot up there. There was a bonus physical cache for them which I found easily, even though it involved walking well off the road and into some closed courtyards around what looked like a ruined church. Oh well! At least I got that bit finished.
So back at the car, I managed to push the wing-mirror housing loosely back onto the door frame. It was just about secure enough to drive back to the hotel (slowly). I'd decided by this time that the car wasn't safe, and I ought to go and own up. The car rental man was very accommodating, but he later told me that was because I didn't attempt to argue or duck out of responsibility. Anyway, he had another Fiat Panda sitting on the hotel car park. He gave me that one under the original lease. The plan was that they'd just take to cost of the wing mirror out of my original deposit. The option would be to cancel the original contract and make me sign a new one. That would have been a bit tedious.
So I got the keys to my second somewhat-aged Fiat Panda in as many days. I must try not to break this one.
Driving to Rethymnon
By this time it was lunchtime, so the four of us had a quick lunch in the hotel before getting all covered in suncream and heading out to Rethymnon.
Rethymnon was about 50 minutes away to our west, driving mainly along the North Coast Highway. The new car seemed to have a rather noisy air conditioning unit which made driving it a bit more musical than the previous one. I guess that was my punishment for breaking the first one.
Back at the plot, Kas navigated us into town and we parked in a massive car park next to the port. That was some way away from the old Venetian town centre, but not far enough to be much of a problem.
We walked around the back of the harbour to the Old Harbour area, which is where, many years ago, I made a proposal of marriage to the Good Lady Wife. Obviously she said yes, because otherwise she wouldn't be the Good Lady Wife. Anyway, we spent some time discussing which particular restaurant we were sitting in on that evening. We couldn't really remember, and I guess things change over a period of 23 years anyway. I seem to remember also that on the night of that proposal both of us were somewhat the worse for drink. Never make big decisions whilst sober. That's my policy. I think we eventually plumped for one of them without being either sure or bothered by the subject. It was one of the restaurants here. That's the only part of any relevance.
Separate Ways
I'd partly wanted to come to Rethymnon because there's an interesting selection of geocache types there. As we walked from the Old Harbour to the Venetian Fortress it became obvious that I wasn't going to have time to do "touristy" stuff and go caching as well. The girls don't like caching at the best of times, and especially not when it's boiling hot, so we split up for a while. They went into the Fortress and then wandered around town doing a bit of shopping and then crashing in a bar in the Old Harbour for some cooling drinks.
Meanwhile, I dashed from the west of the Venetian Fortress, through the old town streets, down to the main square and then out to the east, picking up various geocaches on my way. I finished to the east of where we parked, and left myself at least a 1km walk back to where Kas told me they were waiting. Never mind. By this time the sun was losing some of its strength and I'd kept my fluid intake up, so I was good to walk back at decent speed.
I met the girls at about 6 pm in a bar at the very west end of the old harbour and treated myself to a milkshake, which was spectacularly tasty. The girls had had milkshakes and also some desserts, so they were suitably sugared up and cooled down.
Going Home
We had a leisurely stroll back along the seafront whilst being regularly accosted by restaurant owners trying to get us to go for dinner. They all ended up being disappointed by us. We had a free meal waiting for us back at the hotel. Obviously it took us most of an hour to get there and then most of another hour to get cleaned up. That meant we went for dinner a bit later than previous nights.
After dinner, we all sat on the terrace bar for a while playing with technology and watching the fading light. It made for a good end to a good day.
---
What's the Story?
Spinalonga Island is towards the east of Crete near the resort of Elounda. There's an old Venetian Fortress, which later became a leper colony and then a prison. It's now a tourist hotspot.
I'd actually been to Spinalonga before, but that was about 10 years even before I met Kas. I went to Crete for a week with one of my old school mates in between finishing university and starting work. We stayed in Elounda, so Spinalonga was nearby. However that was nearly 35 years ago, so I didn't really remember much about it. Much water has passed under the proverbial bridge since then.
In the Morning
Because we'd got quite a way to drive we had breakfast a bit earlier than previous days. We hopped into the car at about 10am, assuming this would be more than comfortable to make our scheduled boat journey at midday. I'd booked boat tickets online the day before. The drive across was easy but a bit slow.
When we got to Elounda the car park at the port was already very full, but there's another one up the back where all the tourist buses go and park. There was loads of room up there. We had plenty of time to walk back down and find our boat.
Spinalonga Island
The boat trip out was pleasant enough and we got to Spinalonga in good time. That's where we hit the "issue" for the day, though. They'd only allowed for us to be on the island for an hour. That didn't seem very long and it immediately made us start wondering what to do with our hour. I didn't check the small print for the boat trip and had wrongly assumed we'd have a couple of hours at least.
I quickly gave up on the idea of doing all of the geocaches on the island. Two were right up at the top, through a maze of passageways and paths not visible from below. Trying that would have taken our whole hour, so I didn't bother.
Instead we walked around the perimeter pathway just above sea level. That took us past one of the geocaches as well as taking us through some of the more interesting bits of the old fortress/colony/prison. It was pretty hot again so the walking was quite slow and we welcomed whatever breeze we found. The loop around the island took us to about 50 of our allotted 60 minutes, so while the girls say under some trees waiting for the boat I nipped round the corner to grab a second of the four caches on the island. That one involved scrambling over rough rocks at the base of the fortress walls, but there was evidence plenty of other people did it, so why not? I think it's a way of getting into the fortress without paying the entry fee.
The boat back again was also swift and pleasant.
Dry Land
Back on Terra Firma we popped into a nearby bar to get some refreshments. These were mainly milkshake-based and were most, well, refreshing. The bar we were sitting in was showing the England vs Spain game from the UEFA Women's Euros. We'd missed the end of that because it was played on the evening we were getting ready to travel. I think I gave up watching it not long before Spain scored, so basically missed all the fun. When we arrived at the bar the re-run was at the point where Spain had scored by England had yet to score. So we made a point of sitting in the bar at least until Georgia Stanway's winner went in. Anyway, if got us in the mood because we'd realised that today was the England vs Sweden semi-final. That was due to kick off at 10 pm Greek time.
With only having 1 hour on the island we were done a bit earlier than expected, so we drove back home, arriving at about 4:30pm. That gave us some time for snoozing, which the ladies seemed to appreciate. Well, I appreciated it too, if I'm honest.
I went to hand back the keys to the car at about 6pm, when the guy came back. He was relieved to discover I hadn't broken this one. So we promised to meet again at some later point so I could rent another one for 3 days in our second week.
And then we retired for dinner at about 7.
Come on England!
To watch the football we set up iplayer on my laptop and after dinner I had just enough time to walk down to the supermarket and buy a handful of beers so we could watch it in our room. The beer was cheap (and pre-chilled). OK, we were at an all-inclusive hotel, but that didn't include stocking the mini-bar with premium beers. They didn't allow drinks to be taken away from the restaurant/bar.
The England Team did rather well. A comprehensive 4-0 victory with one completely scandalous goal from Alessia Russo. Game on. When's the final? Oh! Sunday evening. Cool.
---
Early Morning Constitutional
My day involved two beaches. The first involved legging it down to Lygaria Beach from the hotel. This is the southerly one of the two close to our hotel. It's much like the northerly one though. It's a very narrow beach backed with a paved walkway and a load of bars and restaurants. None of those were open when I walked past early in the morning.
The walk down took an extremely steep route which, of course, meant it'd be steep on the way back too. Oh well.
My target for the walk was a geocache at the very southern end of the beach. In fact, the paved walkway continued past the end of the beach and out onto a rocky promontory. The cache was behind a lamppost at the end of that.
The walk back up took a while in the heat, but obviously that wasn't much of a surprise.
The Rest of the Morning
The rest of the morning involved having breakfast and then it settled down into a busy morning of doing nothing. I'm really not very good at having nothing to do so I was a bit bored.
We went for lunch together too before retiring back to the rooms for another intensive afternoon of doing nothing.
Sea Swimming
For mid-afternoon we managed to persuade the kids to come for a walk down to the Agia Pelagia Beach, the second of my two beaches this day. They weren't happy. They wanted to go down on the hotel's bus (or specifically come back on the bus) but the hotel receptionist was hopeless on the subject of where the bus actually left from. Rather than wander around like numpties and end up walking anyway, we sort of just went with a bit of grumping going on.
That proved to be a great decision. The walk down takes no time at all and we took swimming stuff to go for a dip in the sea. The beach was absolutely chocker, but we managed to find ourselves enough space to chuck two towels and our bags. So off we went into the sea. It was wonderfully cooling.
The sea here drops away quite quickly but there was a rocky reef about 20m out which was great for standing on if you're rubbish at swimming. It was maybe 4:30 when we arrived and we ended up staying in the sea for an hour or more before retiring to "The Purple Bar" for milkshakes.
On the way back up we stopped at the supermarket to buy food and drinks for the following day, which was going to be a bit of a monster.
And because the following day was going to be a monster, we grabbed dinner quite quickly and went to bed.
---
What's Going On?
When you visit Crete are two excursions which are more or less mandatory. One is to go for a wander around Knossos. There's more on that subject later in the holiday. The other one is whether you're "hard" enough to have a go at walking all the way down the Samaria Gorge. It's possible to visit Samaria Gorge the lightweight way (by catching a boat to the bottom and walking up a bit) and that's actually what I did when I first came to the island. When I came in 1998 with Kas we did the full walk. We had fond memories of that day so persuaded the kids to come and have a go at it too. Isn't it strange how your memory filters out the bad bits and just leaves the good bits.
An Early Start
Samaria Gorge is a long way away from anywhere. Well, I guess it's not that far from Chania, but that means it's a long way from anywhere else. Even from Chania it's about 30 miles over ridiculously small and winding roads. But that means it was about 100 miles away from where we were staying.
We'd booked a trip by bus (you can't do the walk with your own car) through the hotel reception. It was a package trip with a local company and the local pickup turned out to be the last one. Heaven knows how early people had to get up for the first pickup. Anyway, we were due to be picked up at 6:30. That meant being up the top of the hotel car park by about 6:20, just in case. It was so early that we got to watch a lovely sunrise while we were standing and waiting.
When we eventually were picked up, it turned out to be just a minibus. I thought that was a bit weird. The minibus scooted down into Agia Pelagia. It apparently had a couple of other pickups to do before heading off. After this, the reasoning for the minibus became clear.
The minibus was in fact just a local "hoover" that was collecting people and then dropping them off up at the main road. We pulled off into a layby on the motorway junction and sat for a couple of minutes until a somewhat larger bus appeared behind us. That was the "real" one. It was close to being full when we got on, so we found ourselves a few seats (not all together) and settled in. It was still only just 7 am and the tour guide said we'd likely arrive at the gorge around 10:30.
The Wheels on the Bus Go Round and Round
The next several hours were spent in a state of boredom, interrupted by occasional tedious phases. The bus didn't seem to be going very fast. I know the roads are rubbish, but the bus still seemed to be going way, way too slowly. Because some people had apparently been on the bus since last night, they had scheduled a stop somewhere to get breakfast and use the toilet. That place was only 25 minutes from where we'd got on. The bus waited there for the best part of half an hour.
From here, the bus continued along the north coast highway until we were nearly in Chania before turning up into the mountains. And then we made a second stop, in the village of Omalos. Omalos is the proverbial "last village before the gorge" – it's only a couple of km further up the road to get to the gorge entrance. I guess we'd been on the bus without stopping for a shade over 2 hours when we got there, but another 30 minute stop felt a little excessive. By the time we got to the top of the gorge it was getting close to 11 am, and then we had to queue to buy tickets to get in. That took another 15 minutes. So all-in-all, it was somewhat after 11 am when we started walking.
The tourist guides say to allow 6-7 hours to walk down. If you're quick, you could maybe do it in 4-5 hours. Our tour guide told us two things which turned out not to be entirely true. Firstly, he'd be walking behind us as a "sweeper" and secondly, he'd be handing out tickets for the ferry home at 5 pm in a bar at the bottom – don't be late…. More of that later.
Walking Stage 1 – Down to the Agios Nikolaos Checkpoint
Before the rest of this post turns into a moan-fest, it is worth noting that the Samaria Gorge is one of the most spectacularly beautiful places on the planet. Let's get that out of the way. You can read about it, and the National Park around it, at https://www.samaria.gr/
We began walking down without any real sense of urgency because (in mine and Kas's minds) we'd still got absolutely ages. A whole 6 hours, when surely the tourist guideline of 6-7 hours was meant for "slow" people.
What became apparent is that our group fell into the "slow" category. For any number of reasons. None of us apart from Kas is as fit as we ought to be, and indeed the kids hadn't really even bothered trying to prep. At least I do long walks whilst caching on a fairly regular basis. So whilst I can't run very fast, I can keep walking for a very long time at a reasonable rate. The kids can't. Secondly, the walking was what you'd describe as challenging. There's no more than 1km out of the total 14km in the gorge itself that can be walked without looking downwards at every single footstep.
Going Downhill
Even though its downhill, it's very steeply downhill at the top. Steep enough for steps, but irregular ones amongst tree roots and loose rocks. In the valley floor some of the downhill is uphill, and it's equally uneven. The challenging walking conditions were the main thing that Kas and I had forgotten.
So when we got to the first checkpoint, which seemed to take an eternity, we saw the tour guide and he gave us a pretty stern "you're late" kind of comment. I know we were late. We were going as fast as we could though.
Venus was suffering the most. She suffers from floppy-ligament-itis. I think it has a proper medical name, but basically her ankle joints and the soles of her feet aren't very resilient to long walks, even when she has supportive boots on. She gets pains akin to being stabbed in the bottom of the foot. I know when I walk too far I get something similar and have to rest, but usually for me it doesn't start until I've walked 12-15km. Anyway, on this day I'd tried my walking boots on first thing and they didn't feel right, so I swapped them out and wore some walking shoes instead, so my experience was not what it might have been.
And then Ami. Ami gets blisters on her feet, even with boots that fit properly. So we were a bit of a sorry bunch even at the first checkpoint, which was only 25% of the way in. It was starting to look like it would be a difficult day.
Walking Stage 2 – To Samaria Village
After sitting around at Agios Nikolaos for 10-15 minutes and consuming some of the food we'd bought we had to head off again. At least there's drinkable water at multiple points, so you don't have to carry buckets of water with you, but you do have to carry food.
On this second stage was the point where the fun disappeared and it became, I'm afraid, a constant race against time. We could really have used an extra hour or two to do the walking, and maybe that was the problem with the tour company we used. We'd been at the top at least an hour after we were expecting, but because the final boat of the day leaves at a fixed time, you either catch the boat or you stay overnight and then try to figure out how to get home on your own the following day. So we basically had 6 hours. We'd used more or less two of them getting to the first checkpoint.
Samaria Village
At the second point we met up with the tour guide again. There were plenty of others from our bus still there when we arrived, and he told us we'd caught up to the schedule, but we could only really afford to stay there for 10-15 minutes again. That's certainly not what Venus wanted to hear. The guide also told us that it's possible to get a minibus the final couple of km from the gorge exit down to Agia Roumeli. That was beginning to look like the preferred option.
The fact that the guide was already there when we arrived, but hadn't passed us on the path, revealed that somewhere there is a quicker walking route. There are no roads, so either he went a different way, or he has a twin.
Anyway, back at the plot, V had a few things to eat. Ami also grabbed a couple of snacky things. I was munching my way through the European Sandwich Mountain that was in my backpack. Nobody else seemed to want any of them. Anyway, 15 minutes rest and off we go again.
Walking Stage 3 – Down to the end of the Gorge
Minibus or no minibus, we still needed to walk down to the southern exit of the gorge.
We gained a false sense of security from the fact that the stretch to the south of Samaria Village is the easiest part to walk on. In the hour after lunch we covered the best part of 4km, and thought we were getting back to the "comfortable" stage with the time. This was despite the fact that both kids were in obvious pain. Both soldiered on. I guess the fear of missing the boat was stronger. I felt much the same. To be honest, it wasn't the best day of the holiday because of the constant need to keep walking. I found I was progressing more quickly than the kids to try to set a pace that would get us home, while Kas was bringing up the rear and keeping the girls going.
Anyway, the brief flirtation with comfort soon disappeared when we hit the bottom stretch. That's the part where the path goes through "The Gates" – a narrow section no more than 4m wide at the base but nearly 300m high. It's spectacular, if you have time to look. However, that narrowness also heralded the return of the uneven, undulating pathway that was, at times, quite difficult to follow. At least most of this section was in the shade. Heaven knows how we'd have felt if it was in direct sunlight too, but by this stage it was mid-afternoon and the sun was behind the cliffs to our right.
The Final Stage
We finally, finally reached the exit gate at the southern end at about 4:40. There was a rest area there but we frankly didn't have time to stop. From the exit gate it was another 500m or so to the place where the minibus goes from. We weren't sure how often the minibus goes, nor how much more walking there would be, to be honest, so while we were inbetween those two points I suggested to Kas that maybe I should hot foot it down the road to Agia Roumeli to make sure I was at the relevant bar to collect the ferry tickets. The ferry wasn't until 5:30, so most of an hour was available, but the guy definitely said to be at the bar to collect tickets before 5pm. There was no way the girls were going to walk there that quickly.
So off I went. I had about 15-20 minutes to walk the final mile or so, find the bar, and get the tickets. The girls waited for the minibus.
I made it down to the village pretty quickly (I have to admit I jogged some of it though). The route down was a concrete road (the only road in the village). I could move quickly across it and it was welcome relief after a day of uneven plodding. But of course, I hadn't taken the map of the village so I didn't know the whereabouts of the relevant bar. Damn. I also think I took a slow walking route which lead me further than I needed to go. I reached the village at fractionally before 5 pm. Rather luckily, I found someone else off our bus who pointed me at the right place. And at the queue.
Do what, Ioannis?
When the boy said he would leave the bar at 5 pm, what he actually meant was he would start giving the tickets out at 5 pm. Loads of other people off the bus were in a queue, and I joined the back of it.
I was sweating profusely after running or power-walking much of the way and I was out of water too. That momentwas the worst I've felt in many years. I definitely made a mental note that I'm never going to attempt that walk again. Ever.
I also resolved internally that we should listen to the girls a bit better. V said she'd struggle, but we persuaded her to do it anyway. It was too much for them. The stress of that all day meant that neither Kas nor me really enjoyed it either. If you're young and fit, and have some experience of walking over rough ground, it would all be fine. When you're unfit and haven't practiced it's too much.
Anyway, all of this thinking was done whilst standing in the queue. When I got to the front I got a bit of a "oh, you made it then" comment from the guide before accepting my tickets and being told I needn't have rushed down. I could, in fact, have waited for the minibus. The last one is at 5pm. The girls caught that one. It cost €3 each but that's a lot cheaper than spending the night in the village. I suspect that's what we'd have been doing if they hadn't made the minibus.
Anyway, tickets in hand I went down to the ferry dock and waited for the girls to appear. They sauntered up at about 5:15, having had time to stop and buy some chilled drinks in the village.
Ferry Time
Now reunited, we went straight onto the ferry and looked for some seats. I suggested we make the tactical move of sitting on the sunny side. Why? Because the boat was going the other way from how it was pointing at the dock. So the sunny side would become the shady (and land-facing) side as soon as we pulled off. So we found some bench seats and crashed. Venus sat on the edge, in the sunshine, looking like she could easily kill someone who said the wrong thing. Kas sat opposite her and I sat next to her. Ami sat in the shade next to me and removed her walking boots with some degree of pain.
The ferry back took 40 minutes or so (I think) and involved a stop at an intermediate village before dropping us off at the end of the nearest road – the village of Hora Sfakion. This is the place where all the tour busses sit and wait for people who've done the "long walk" so it has a massive bus park. It also has a new pier since the last time I visited. Anyway, I'd previously checked with the guide and his answer was essentially that we're leaving as soon as everyone is on the bus. I took that to mean he'd take a dim view of me climbing a nearby small hill to go find a geocache.
When we made it to our bus the nearby hill was actually even more nearby than I'd imagined. However there was a big crowd around or getting on the bus, so I thought it would be either impolite or dangerous to wander off. At least we managed to get pairs of seats this time. Kas sat with me and the girls sat together somewhere behind us.
Driving Home (but not for Christmas)
The drive up out of Hora Sfakion is pretty dramatic. Many moons ago I'd descended into here on a bus and I'd wondered why the flat plain below us still had loads of hairpin bends in the road. That's because it's not flat. It's just flatter than it is higher up. Anyway, you get the picture. Bends. Lots of bends. See the embedded photo here from https://www.picturesfromgreece.com/ – that's a photo of the steep bit.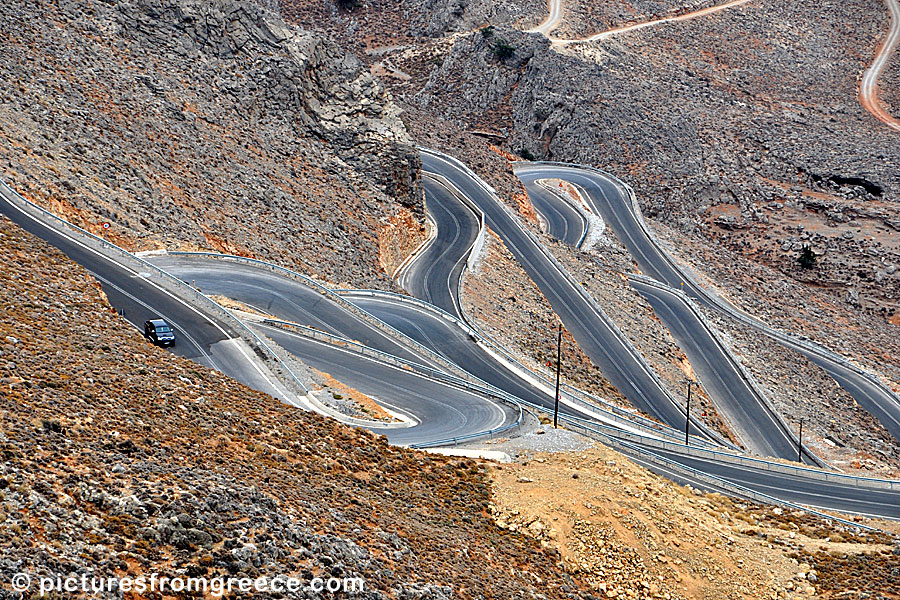 One advantage of the drive home compared to the drive up, though, is that it rejoins the north coast highway about 30-35km closer to home, which meant 35-40 minutes less on the bus.
We did still stop on the way home because some of the people on the bus had still got a long ride in front of them. While we were stopped it occurred to me that it was possible we might just get home in time for dinner at the hotel. I checked with the tour guide. 35-40 minutes more to Agia Pelagia, he thought. And it was not long after 8 pm.
What I'd forgotten, of course, was that we would be abandoned at the roadside and then driven around Agia Pelagia in that minibus again. That took 10-15 minutes and we were last on the drop-off schedule. Eventually we got back to the hotel at 9:30 and we walked straight to the restaurant, assuming we'd got half an hour left for dinner. We hadn't. Dinner closed at 9:30, not 10. Damn.
Reflections
So having failed with dinner, we also concluded we couldn't be bothered with queuing for a cocktail either. So we just gave up and went back to our rooms. We invited the girls round for some crisps we'd got in the room, but they weren't interested. Ami was suffering with blisters and a bruised knee from where she'd placed a foot wrong and fallen over.
So Kas and I had a relatively humourless beer from the fridge and some crisps whilst unpacking and complaining a lot. And that was that for the day. We got up at 6 am and went back to bed just after 10 pm. We were all exhausted. Had the kids not been with us, or had we all been rather more fit and able to walk long distances, I'd have enjoyed it much more. The reality though was that the day had mainly been a stressful slog, albeit in the beautiful surroundings of the Samaria Gorge.
Remind me never to try that again.
---
I'm Tired, and Everything Hurts
The previous day's exertions in Samaria Gorge left us somewhat the worse. We thought it would, so we'd planned this as a slow day. In fact, referring to it as a slow day makes it sound a lot more busy than it was.
This is probably going to be the shortest and least informative of all the posts about the holiday.
OK, you get the picture. We didn't do much.
We had a late breakfast – "pushing on closing time" kind of late. It allowed us to make up for the lack of dinner the previous night.
Ami didn't attend breakfast. Later discussion revealed she had really pretty bad blisters, which had burst and left some big gaps in coverage. She addressed that with plasters, but they took several days to recover, during which she found walking very uncomfortable. She also had a bruised knee from where she fell over.
Venus still had achy feet too, and I'd managed to get blisters on the ends of my little toes. All-in-all we were a sorry bunch of individuals on this day. Kas seemed to be the only one with no injuries, but even she was drained of energy.
Then we spent the rest of the morning snoozing in our rooms until it was lunchtime.
We did manage to get Ami to join us for lunch. It passed the time for an hour or so.
And then we farted about doing nothing of note again all afternoon. I spent an amount of time starting the blog posts for this holiday and mucking about with planning a geocaching trip for a few days later.
Finally, we had an uneventful and unenthusiastic dinner followed by a couple of drinks on the terrace bar. The highlight of my day was taking a nighttime photo of the pool, and even that might actually have been taken on a different day.
---
I Just Don't Know What to Do with Myself
Saturday. Our second Saturday. The day of my MKGees on Tour geocaching event down on the beach. But that was in the evening, so there was quite a lot of day to fill up.
We had another slow start. We were still suffering quite a lot after the Samaria Gorge walk. It took quite a lot out of the kids. I was tired and my little toes were a bit sore, but otherwise OK. So there wasn't a great deal of enthusiasm for anything and certainly no enthusiasm for going out in the morning.
So we had a slow breakfast again and then the kids retired to their bedroom again for more lazing around. I'd had a day of doing nothing the previous day though, and frankly I was bored because I'm not really one for reading books and I wasn't tired enough to spend all day in bed. So I went back to the reception area to see the man about renting a car. He'd got one available that I could take straight away, so I rented it for three days, got the keys, and then went back to the room to sort myself out.
The sorting out involved getting extra insurance in case another accident should befall me. And then, of course, the packing of a day bag and the head-to-toe application of sunblock. I was ready to go by midday. As far as I knew, there were no other plans until my event at seven, but I'd already decided that going out for 2-3 hours would be enough.
Facing Your Demons
So I headed off up the road in another Fiat Panda to see what I could see. This car was bright red and had done about half the distance the other two had. It was a noticeably smoother car to ride in and the engine was nothing like as gruff.
My plan was to go hit the multi-cache up in Achlada that I'd started on our first day.
That cache was away up in the hills again in the next village along from the one where I damaged the other car. So I approached with some trepidation in case it was a similar village. Anyway, first job as ever was to fill up with fuel and buy soft drinks for the day.
As it turned out, the road up to Achlada was better than the one to Rodia, and there was a big wide street right through the centre with no parked cars. There was also a big parking area right by the church, which was sort of where I needed to start from.
First of all I headed west of the village for one of the multi stages and for another cache in some abandoned buildings. Those were fun.
From there I decided I was already as close as I could get the car to the actual multi-cache final location, so I just legged it. The walk took me onto the top of a hill that had a fantastic view over Agia Pelagia down to the sea. The view in the picture below, as it happens.
Moving On
So, flushed with success after not totaling a car in a Greek village, I decided to move on. My next target was in the seaside village of Palaiokastro. That name means "Old Castle" as far as I'm aware. It is so named because there's an old castle there. It's on top of a hill. There's a cache up there but I couldn't see how to walk up there or where to park. However there was a multi that started by the beach. It finished about 10 yards from where I'd parked, so that was a bonus.
I decided on one more from here so I drove a few miles along the north coast highway to grab one in the car park of a service station. There was a random church there too, but fundamentally it was a car park.
And from there I decided that was enough. So I drove back to the hotel to see what the girls were up to.
Take Me to the Beach
It turns out that the girls were planning to walk down the beach and have a dip in the sea before my caching event. That was fine with me. They were planning to set off a couple of hours after I'd got home, so I had time for a quick snooze beforehand. Result!
We spent an hour or so in the sea and then retired to our new favourite cafe for some milkshakes, beers and snacks. The beers and milkshakes came quickly. But there seemed to be a problem with getting food ready. It took ages and ages. They told us it would, but nevertheless….
Eventually our food arrived about 5 minutes before I needed to be at my caching event. I figured I better actually go, on the basis that someone else had said they were coming.
Eventing
My event was located along the path in the car park at the end of the beach. I'd called it MKGees on Tour, because that's essentially what it was. Two others had said they were coming, but one wasn't sure whether he'd make it.
I stood at the given location for a couple of minutes before I was approached by someone. I thought (from his appearance) that it was the "maybe" guy. But it turned out to be the "definite" guy. And his girlfriend. That was good. So we stood there chatting for an hour, looking out over the beach and watching the sun go down. They'd raided a travelbug hotel in Heraklion earlier in the day and had bought the contents with him. I thought he meant three or four, but he had actually brought 18 trackables with him. OK, those are going to have to go back to the UK, because I hadn't been finding many big caches on the island.
Kas and the girls joined me once they'd finished eating and paid the bill. We talked for about an hour but then decided to call it a day. The other two cachers wanted to go find a couple of caches while the light was good. I'd concluded that the other guy (Mr Maybe) wasn't going to come. So we left.
When I got back to the hotel I checked my phone and he'd texted me at 7:30 to say he was on his way. He must have passed us as we were walking back up the hill. So I felt guilty for about 10 minutes until I concluded that arriving 5 minutes before the end of a one hour event that only two others were attending was pushing the limit a bit.
Night Time
Nobody else wanted dinner in the restaurant because the snacks at the bar were a bit bigger than expected. So I grabbed a quick one-plate special alone and then met Kas in the terrace bar for a couple of drinks before going to bed. Tomorrow was going to be "tourist central" potentially
---
A Cunning Plan
It's more or less mandatory to go to Knossos when you visit Crete. I've been before on both my previous trips, but they were a long time ago, so I was happy to go again. However, the fact that it's more or less mandatory means that it gets busy.
Getting There
We made an early start and discovered that there were not many people in the hotel restaurant at 7.45 on a Sunday. Even with us, one of our number was there in body but not in mind. But we needed to get up early because we were planning to get in and out quickly, hopefully before the majority of tourist buses arrived. We were ready to leave before 9 am.
We'd still got the trusty bright-red Fiat Panda and it got us from home to Knossos in half an hour. I thought it might take a bit longer but it was really quite quick. The site may have changed in the 23 years since we were last here, but we found ourselves entering a massive and pretty much empty car park. I chose to go and park at the very bottom end – away from the huge bus-sized spaces and under some trees. That meant walking all the way back uphill through the car park.
It took a little while to spot the actual entrance. We found a machine that advertised tickets and I shoved a card into the machine, only to discover it was just an ATM. Ho hum! Not all was lost – we were running short of cash Euros anyway so I grabbed some more while we were there. And then we went to look for the real ticket booth. The real one was a lot more manual – it involved a real person and a few words of discussion.
Time-Team on Steroids
Despite being only 10 am when we were entering, it was still really hot. And I was reminded of the previous trip to Knossos by the near-deafening noise made by the local insect population. At least there were areas around the outside that were in the shade.
Meanwhile, back at the actual site of historical interest….
There may be a temptation to take everything you see on site as being original and authentic. The reality is somewhat different. It was excavated over a period of 35 years from 1900 onwards. The excavation was led by British archaeologist Arthur Evans, and it's fair to say that a lot of the descriptions and restorative work that was done is based on Evans' interpretation of what he was seeing. Several things were obvious, but many areas were open to interpretation. Indeed, the "main" bit that you see in tourist photos, the bit of wall with three red columns, was restored by Evans' team based on his interpretation of it being part of a formal processional entry into the city. Not a massive leap of faith in this case, but still it's worth bearing in mind that much of the site is open to interpretation.
By the time we got halfway around there were quite a lot of people doing the interpretation. Was guessed that the tourist buses had begun to arrive. The site in general is quite interesting to walk around though. It covers quite a big area and it's easy enough to understand why it took the team 35 years to dig it all out and restore enough of it to be safe for tourists.
Slow Service
We spent a bit more than an hour walking around before going in and retiring for a drink at the cafe by the entrance. That's probably the most ridiculous "fleece a tourist" location on the island, but it turned out to be OK for price.
The speed left something to be desired, though. V was the one who hadn't had any breakfast, so she needed some brunch now. She ordered some chicken nuggets and chips but I think they forgot to put the order through to the kitchen. It took at least 50 minutes to arrive, by which time we'd all long-since finished our drinks. Once they did arrive they were fairly good, apparently, but after that length of time maybe hunger was taking over from sophistication of palette.
Back Home
The car park was a bit more full than when we arrived, with both vehicles and people engaged in Brownian Motion. But soon enough we were back on the road and away.
We got home from Knossos at about 1 am and Kas fancied some lunch. She went alone 'cos the rest of us weren't at all hungry.
The afternoon was spent mainly snoozing. There was some serious football-watching to be done in the evening, so we didn't want to peak too early.
C'mon You Lionesses
The footy was due to kick off at 5 pm in the UK, which meant 7 pm in Greece. Which meant we'd need to eat dinner quite quickly. I don't think any of us was especially hungry anyway, so that didn't matter.
The kids had no interest in watching the football, so Kas and me retired to the terrace bar without them. We got a table right on the edge and set up the ipad using my phone as a hotspot. The video streaming wasn't great. I'm pretty sure that was the fault of the BBC iplayer rather than the local 5G service. It was adequate though.
Which is just as well, because it was a cracking match. Lots of good quality football. Quite a few missed chances, some robust tackling and ultimately a victorious England team. Whoever wrote the script for the final did a decent job. We were joined at our table from about the 75th minute by Dan and Casey, from somewhere or other. They seemed to be the only other English people in the bar who were interested. They were just getting score updates on a phone though. So gawping at live action on a relatively small ipad screen was a step forward for them.
Blimey! An England football team actually won a tournament. The captain, Leah Williamson, who once received some career guidance from our friend Jools when she was at school in Milton Keynes, now gets to stand alongside Sir Bobby Moore. They are the only two England football captains to have led a team to a major trophy.
---
The Sketch
A day of geocaching, starting with a few on the beach and then heading up into the Cretan mountains. The girls weren't in any way interested, even though it was essentially a series of drive-by caches in spectacular scenery. No walking would be involved (or at least, no strenuous walking). And I would happily have taken someone riding shotgun and stopped for multiple ice-creams, but no takers.
Georgioupolis
My first target for the day was to drive across to Georgioupolis. There was a wherigo geocache there. That was the only type of cache available on Crete that I'd yet to find. So I figured it was worth the effort of going into the town. Anyway, it was in the same part of the island as the main loop I planned to drive around. The proverbial stars were aligned.
It was a straightforward hack west along the north-coast highway to get there. It's about 20-30 km the other side of Rethymnon from where we were and it took me about an hour to get there.
I left the main road a little early to allow me to do two caches on the run into the town, then I parked up for the wherigo.
Wherever I Go, so does she go!
The end point of the wherigo turned out to be a restaurant near where I'd parked. They weren't open but the hint said that the cache itself would be on the bar at times when the restaurant was shut. The place seemed to have three bars. I have to admit I felt highly suspicious as I was searching around.
After a few minutes, a woman came out of the kitchen at the back and asked me what I was doing. When I said I was looking for the geocache she opened a cupboard behind the bar and got it for me. She asked me if I'd like a drink while I was playing with the cache. I wasn't in the mood for the beer she offered me (I was driving anyway) so I had a coke whilst sitting outside on their front terrace on my own.
She pointed me at their toilets so I could turn my bike around. When I tried to pay for the coke she sort of waved me away and said it was fine. Probably too much grief to open up the cash register and then account for why I'd been served at a time when they were supposedly shut. So off I went. Whereigo cache completed. Full set available on Crete completed.
Running Up That Hill
Well, driving, but anyway…..
My next target was the "Myths and More" series up in the mountains. I'd solved them all some time previously but hadn't correctly transcribed all of the hints from the puzzle checkers, and that caused me some grief with some of them. It was a series of about 30 caches around a loop of roads up in the mountains. I'd visited the locations on Google Street View and it looked OK. All  of the caches had somewhere to pull the car off the road. No stopping in the middle of the road.
As it turned out, stopping in the middle of the road wouldn't have been a problem at most of the locations anyway. Once I got above the last village on the road was deserted. I think at least one of the roads used to be the old main road for buses going to Hora Sfakion, but they've built a new one of those so the old road is now quiet.
The problem with deserted roads in Crete though is that the road surface can be dodgy. Such was the case here. Whilst the scenery was undoubtedly spectacular, the roads were verging on unpassable in places. Where climbing up the sides of the steep hills (much of the outbound leg) I had cliffs on both sides. The uphill sides were all shedding rocks onto the road surface, and the downhill sides all had big cracks in the tarmac where the road was slowly going over the edge. I guess the route isn't maintained very regularly. It was a fun drive, to be honest, and I was glad that it was an empty road and that I was in a small car. I wouldn't have liked to meet anything large coming the other way.
Nuffski
The final bonus for the series was back in Argyroupoli and required a bit of a walk. Technically I could have taken the car up. But it would have been the steepest and narrowest road of the day, so I decided to park on the main street and walk.
On the way there I passed a local bakery, so on the way back I stopped in there to grab some cold drinks and an ice cream. Greece seems really cheap when you're not on the coast. The proprietor of the bakery was very keen on me trying some biscuity things (a bit like speculoos) that she'd made that morning. I took one and nibbled at it. She insisted I take another as I walked out. They were lovely, but because I was pretty thirsty at this point they were a bit like eating sawdust. I didn't make it through the second one. The ice cream was nice though.
I had a few roadside items on the radar as I drove back down but at this point I was in "havering" mode. Ultimately I decided only to stop for caches accessible from the coastal highway. So I dropped downhill as fast as possible and started making my way east.
I found three by the roadside on the way home. All of them required me to park and take a short walk. I was happy with that though. I'd been in the car all day so a leg stretch was good.
Where's Captain Kirk?
I got back to the hotel at about 5:30. The ladies of the house had gone down to the beach some time earlier. I decided not to join them. Instead I typed up all my caching logs and had a refreshing shower while waiting for them to get back.
I also waited until 6 pm so I could go and give the car keys back. He was pleased again that I'd had his car for three days and not broken it. I elected not to tell him where I'd driven it. But it was a marked road, so I was within the bounds of the insurance policy. It was a bit dusty on the outside though.
For the evening we had a quick dinner and then I retired to the terrace bar with the kids and we played cards for a while. All-in-all I'd had a great day out.
---
Getting There
We'd arranged a day at the Acqua Plus water park near Hersonissos. After a bit of thought, we decided to take the bus rather than go by car. The hotel had daily bus trips, so we went for that. Except it wasn't a hotel trip. Acqua Plus has figured out that they can make shed-loads of money by sending buses out every day to collect people from the biggest hotels all the way from "West of Heraklion" across to Agios Nikolaos.
I guess many tourists on the island would love to go to Acqua Plus but don't have a car, so a daily bus is ideal for them. The bus added about €10 each to the day.
The bus picked us up at 8:40, so we were up for breakfast well before and were ready for the bus in plenty of time. The hotel gave us a packed lunch each to take with us. More of that later.
The Journey
As we were staying west of Heraklion, we were the first place on the pickup route. From there we followed a fairly long route through Heraklion's western suburbs, which are apparently full of big hotels. And from there we went right down to Heraklion's port because we had another pickup to do there.
As we were driving towards the middle of Heraklion I noted the presence of a massive new tower block right in the port area – all steel and glass and well out of character with the other buildings. It got bigger and bigger until eventually I realised it wasn't a building at all. It was, in fact, a cruise ship. A big one. We think, after downloading a "stalk a ship" app when we got back, that it was the P&O Cruise Ship Azura. Whatever it was, it was flippin' massive. I know people love them, but my personal view is that they're posh floating prisons. I don't find it relaxing to laze around doing nothing. So the prospect of doing that constantly, albeit in luxury, is not one that appeals to me.
Anyway, back at the plot, once we got out of Heraklion there were no more stops. We arrived at Acqua Plus at around 10 am.
Off We Go
We were just in time to join the massive queue to get in, as they didn't open until 10 am. It took us at least 20 minutes to get through the queue. At the front of the queue, we saw the signs that said that due to "tax reasons" we weren't allowed to take in any food or drinks. Nothing. Not even bottles of water. That made a mockery of the hotel providing us with lunch. But as is often the case, there was nobody actually checking whether you'd taken stuff in our not. So bum to that then.
The park itself is supposedly Crete's largest, and it contains Greece's biggest water slide (38m high). It contains loads of other things too. Most of them have a water-based theme.
The first place to find obviously was the changing rooms and lockers. This day was also going to be a great test of how waterproof the supposedly waterproof sun cream was. So there was lots of squirting and rubbing in before we got into the action.
It's difficult to say exactly what we did all day because there were lots of different things and we can't remember the names of any of them. Some were straightforward slides that you just jumped on. Others required sitting in a big inflatable ring. One of these got named "Unlucky Stucky" based on it being a succession of pools with slides between, and the rubber rings kept getting stuck in the pools.
Throughout the morning it was reasonably quiet. We found that we weren't queuing much. And more importantly, there was an adequate supply of inflatable rings. That was good.
Lunch O'Clock
We decided to join a fairly long queue to buy lunch at their official eatery. We could have eaten our own stuff, I guess, but it didn't really appeal when compared to chips. OK, they had other stuff too, but mainly chips. To be fair, they were decent chips. Each of us had a different accompaniment with them. As we weren't driving I also decided that beer at lunchtime would be acceptable. It was cold and wet.
After lunch, we had a good think about the massive slides. We queued ages to get up to the top and then when we were near, The kids decided they didn't fancy it anymore. To be honest, I didn't either, so Kas did the big slide on her own while the girls and I just walked back down again.
We farted about in the "Olympic-sized swimming pool" for a while. Kas and Ami decided to go on the big, uppy-downy job – whereby you basically slide down one side and up another rather than straight out into a landing pond.
Afternoon
By about 3 pm I'd had enough, so I went and sat on a seat in the dining area (in the shade) while the girls played in the pool for a while.
After half an hour of snoozing the girls managed to persuade me to go have a few more goes on Unlucky Stucky. By this time the whole park was "minging" busy and we were unlucky enough that there was a bunch of lads at Unlucky Stucky that were determined to all go down together, but were also quite keen on kicking each other off the rings. The result was a bit chaotic, because they were blocking up the whole thing and generally being irritating. I was irritated enough that I ducked out of a couple of last runs. I was beaten.
On the Buses
We were supposed to be outside at 5pm so we packed up at about 4:30. That should have left plenty of time to get changed, get ice creams, and get out. Sufficiently long, naturally, that the kids moaned about being made to pack up way too early.
But then they wanted ice creams, and they needed the toilet, and we had to queue to pay on the way out. On the way in, they attached a barcoded wristband to each person and you use that for acquiring food and drink. You just pay once at the end. It's a good idea except that there can be queues to get out. Because they have to scan every single wristband you have to have your whole party present before going to the till. So by the time people had finished dashing to and fromm the toiloet and we'd queued and paid, it was only about 2-3 minutes before 5pm. Just as well we hadn't packed up later then. Especially as all the buses leave at the same time, so everyone who came by bus is trying to get out at the same time.
Once in the car park we discovered that the 5pm time was advisory rather than mandatory. Some buses were in the car park, but not ours. A bus arrived which looked like the one we'd arrived on but it had the wrong bus number, so we didn't go to it. After waiting for ages I went and asked a guy with a clipboard what was happening and he gestured us towards the bus that had the wrong number. The driver had gone inside to get the correct number for his bus. It was all a bit confusing.
Back Home
The driver took a different route back through Heraklion from the way we'd arrived. The excitement of the journey was enhanced by the people who'd got on at Heraklion Port in the morning apparently forgetting that's where they needed to get off again. Come on, guys!
But otherwise, the trip home from Acqua Plus was uneventful and we were back at the hotel in time to get cleaned up and go fo dinner at 7:30. As per the previous couple of nights, dinner was a functional affair conducted in near silence. The kids couldn't get away fast enough, which was disappointing. They might have been irritated by having to share a room but hadn't clicked that there was an opportunity to spend time elsewhere. Or maybe they were irritated by us rather than each other. Or maybe they were tired. I don't know what was up, and they sure as hell weren't going to tell me.
---
One More Walk
Our final fling in and around Agia Pelagia. All holidays come to an end eventually. If they didn't, it'd be called unemployment or retirement rather than holiday. But I digress, as I often do.
I couldn't sleep so I ended up getting out of bed earlier than I had on other "do nothing" days. I had in my sights the proverbial Moby Dick – a geocache called Agia Pelagia at the far end of the Beach. It had so far evaded me, and this morning was the last chance saloon. As is often the case I spent way too long in the saloon. I was about to give up again when I thought it might be worthwhile to read through other logs and look at other people's photos. A couple of them, thankfully, gave the game away. But even armed with this new information it took my fingers a while to find the necessary. And even then it resulted in a sharp stabbing pain as I made contact with a bit of a cactus. But anyway, at the second visit, and after maybe 30 minutes searching in total, I'd found it. Good. No Moby Dick for me.
A Quiet Day
I legged it back up the hill and was back home in time for a fairly early breakfast. I can't remember who else came to the restaurant for this meal but I suspect it wasn't all four.
The kids never seemed enthusiastic after the first couple of days and to be honest they were probably in shutdown mode anyway. So I had some breakfast but don't remember who else did.
Then for the rest of the morning, there was some snoozing and some packing of suitcases.
The girls managed to get up in time for lunch, so all four of us went over.
Most of the afternoon was also spent alternating between packing and snoozing. We'd asked the kids to pack everything except for stuff they'd need in the evening or morning. I didn't want there to be any time pressure getting out of the room on departure day. I'd already spoken to the minibus company that was fetching us, so I knew when they were due and we supposedly had ages in the morning. But it never takes much for ages to turn into a rush around. So by mid-afternoon the majority of everyone's stuff was back in the suitcases.
One More Trip to the Beach
We had some cash left in Euros, and there was a place that did nice beer and milkshakes, and we were technically still on holiday. And generally, you get the picture. So at about 3:30 we left the hotel and walked down to the beach one final time.
Before going into the sea we did a bit of souvenir shopping and I finally posted the postcard we'd taken out of a geocache when we were up on the Lasithi Plain. That was about 10 or 11 days previously. I hadn't been searching very hard for a postbox. On my morning walk I'd spotted one.
The sea was warm, wet, and vaguely salty again. On this trip we weren't quite so enthusiastic, so we limited our swimming and plodging to about 40 minutes before retiring to the "purple bar" for some chilled beverages. Some were milkshakes and some were beer. And some were, in fact, food rather than beverages. It was a good way to finish off the holiday.
Not Quite Finished
We legged it back up the hill with thoughts of one final dinner. It was a fairly cordial affair by recent standards. We spent a while talking about the good and bad bits of the holiday whilst picking away at several plates of food.
After dinner, the kids were pooped again and they went to their room. Me and Kas had one final round of cocktails on the terrace bar and retired to our room too. It was quite early, but the following day promised to be a long and tiring one.
---
The Sketch
Home time. The end of the holiday. Or at least it will be as soon as we've finished all the traveling.
Anyway, boo, hiss, and other such phrases.
Leaving the Hotel
We had to be out of the hotel room before 11am. That meant we could take a rather leisurely final breakfast at 9:30. The plan was to get fairly well fed before beginning the traveling. Some members of the family are sensitive to foodstuffs being not quite as normal. On that basis it always pays to stock up when the chance arises. In this instance though, the cunning plan failed because she wasn't hungry. Oh well! It was a sound plan.
We were done with breakfast in good time. Because we'd mainly packed the previous day we were able to get out of the room well before 11 am. There was very little checking out to do. We'd made full use of the all-inclusive and managed not to spend anything further at the hotel.
And then we sat in the entrance hall for an hour waiting for our scheduled pickup. We'd booked a private minibus transfer so and they'd said midday pickup for a 3 pm flight. While we were there we were having discussions with several other Britains. Several were supposed to have left the previous day but their flights were cancelled and they'd been rebooked the following day. So they'd had an extra night on holiday, whether they wanted one or not. Our driver turned up at the right time, but because there were other people milling around and interrupting anyone who walked through the door, it took a while to confirm he was our driver. Meh! We got to him before someone else claimed they were us.
To the Airport
The drive from our hotel was only half an hour or so. We didn't find any bad traffic, so we were at the airport in plenty of time. Heraklion isn't as big as Heathrow, so they ask for you to come 2 hours before your flight rather than Heathrow's 3 hours.
The terminal was quite busy and unfortunately we were so early that our flight wasn't even on the board, so we couldn't check in. I took the opportunity to dash round the car park for 15 minutes to grab a couple of last caches in Greece. It was totally opportunistic, but they were easy.
When I'd done them I texted Kas to say I was coming back, and noticed a five-minute old text saying that the check-in was open now, so could I come back please. Check-in took a while, despite already having checked in online. There seemed to be some people at the front who were taking ages about it. To be fair, the assistants also seemed to be fighting the technology. Anyway, there were five groups in front of us when we joined the queue but it still took 20 minutes to get rid of the suitcases.
We weren't sure what facilities were available on the inside and V was hungry now, so we grabbed some pizza and drinks pre-security before going inside.
Heraklion Airport isn't especially big, and they don't seem to implement passport checks for EU citizens at all. I think that was the sketch anyway. We went through security scanning and then passed through a tight channel for passport control which just boxed off a handful of the gates. So I'm guessing that's the Brexit Benefit – we get to go to gates where all the other people were either British or Russian. Not many other airlines from outside the EU fly into Heraklion.
Flying
Our inbound plane from Heathrow arrived on time, so it looked like we were going to board and get away on schedule. Following up on my gripe from the trip out, why do they allow priority boarding when it's a bus transfer to the plane? We all ended up on the same bus, and so by definition, half the priority boarders were at the back of the bus and got off it last. Seems a bit daft. The plane was absolutely chocker so it took a while to get everyone seated. As a result we were a bit late taking off, but only 20 minutes or so.
The flight back was, from my perspective, a bit dull. We were on the very back row of seats and I was in the middle, so couldn't see out of the windows anyway. That meant four hours of dullness. I did try to do a bit of colouring on the ipad and whatever else was available, but it still seemed like ages. A window seat is best for me, so I can watch the world drift by beneath me. I rarely settle back to read a book or (when available) watch a film. So I was a bit bored. The kids were wasting the window seat on their side by not looking out of it.
So we left at 3:20 on a supposedly four hour flight and got back to London at about 5 pm. So the pilot had obviously been able to avoid all the speed cameras and put the pedal to the metal. All good. And the landing was rather more smooth than the way out.
Back Home!
The passport control in Heathrow was quick. Obviously we dont have to mix with Johnny Foreigner any more, but it did take a couple of us some time to get the automatic gates to work.
And then we hit the first problem with travel that we'd had in ages. The suitcases took forever to come out. Probably the best part of an hour from when we got to the carousel. That was a bit rubbish. At least we could tell that all four cases were actually in London though. We could even tell when they were about to come out on the carousel. I like this game of having the electronic tags inside the bags. Smart idea.
When we eventually got our bags we walked straight out and my car was waiting ever so patiently for us in the Meet & Greet car park. The drive was uneventful after a brief traffic jam on the M25, so we were back home by 7:30.
The kids wanted McDonalds for dinner. It had been over two weeks since their last one. Kas and me fancied something from the Chinese, for much the same reason. So that was dinner sorted.
No Rest for the Wicked
The wicked person in this case was me. On the following morning I had an appointment in Uttoxeter for a weekend of geocaching at the UK Mega. So as soon as I got home I was on a mission to get ready for going away again.
So I emptied my suitcase. The dirty stuff went in one pile and the clean stuff went straight into another bag. There was enough clean stuff left to last the weekend, so that was easy. And that just left me to prep all the technology. I needed a PC, my ipad, my phone, my camera and my GPS, which needed to be loaded with West Midlands caches instead of Greek ones. And then I had to find all the chargers, spare batteries and other bits. At least for this journey I didn't have to have all the tech in the same bag. I was able to put "evening" tech in one bag and "daytime" tech in another.
And that was that. By the time I was done getting ready the girls had all long since gone to bed, and I guess that officially marks the end of the holiday.
Lessons Learned
On reflection, the Panorama's all-inclusive was fine but would have been better from my perspective if there'd been more things (well, more geocaches) that I could walk to from the hotel. I'm never one for sitting around. So whilst the girls were soaking up the ambience and generally doing lots of nothing, I was quite bored on the days when we didn't have a car. I spent a lot of the "nothing" days snoozing in the bedroom, because I'm not suited to lying in the sun. It was relaxing for the first few days but during the second week I sort of regretted not getting a car.
In terms of the resort, there wasn't really anything in the way of watersports – no parascending, no kayaks, and so on, which meant it was peaceful but I think the girls wanted something else to do in resort other than just swimming. That probably didn't help with the boredom either, because I was looking forward to a day of kayaking at least, but frankly there was little to do in Agia Pelagia. So I enjoyed what we did, and I liked the hotel, but I guess it was in slightly the wrong place for us. Another year then.
---